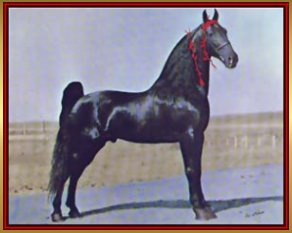 Mack K's Handshaker: 561320
Mack K's Handshaker was foaled in 1956, bred by J.H. Beasley of Athens,Ala. He was sired by Midnight Mack K, son of the emortal Midnight Sun. His dam was Deep Purple, whose lineage traced back to Last Chance.

Doug Wolaver broke Handshaker as a two-year-old late in the season, and, that year, was fourth in the two-year-old stake at the Southern Championship show in Montgomery, Alabama. As a junior, he was reserve champion at the Celebration and then went on to win the junior classes and stake honors at the Kentucky State Fair, at the Dixie Jubilee in Baton Rouge, Louisiana and at the Southern Championship showing in Montgomery, Alabama.
It is interesting to look back over the list of World Grand Champions to note that Doug Wolaver was only the third rider in the history of the Celebration horse show to be either owner or part-owner of the Grand Champion he exhibited. Another point of particular interest is the fact that Doug Wolaver was the youngest trainer to ever win the Celebration's big stake, replacing Percy Moss as holder of the youngest winning rider title.
Winning, and especially the Celebration, couldn't have happened to a better person! That's the consensus of his fellow horsemen.
Mack K's Handshaker went on to sire two World Grand Champions - Shaker's Shocker in 1966 and Handshaker's Delight in 1972.